Scything at the Botanical Garden – Beautiful meadows require good care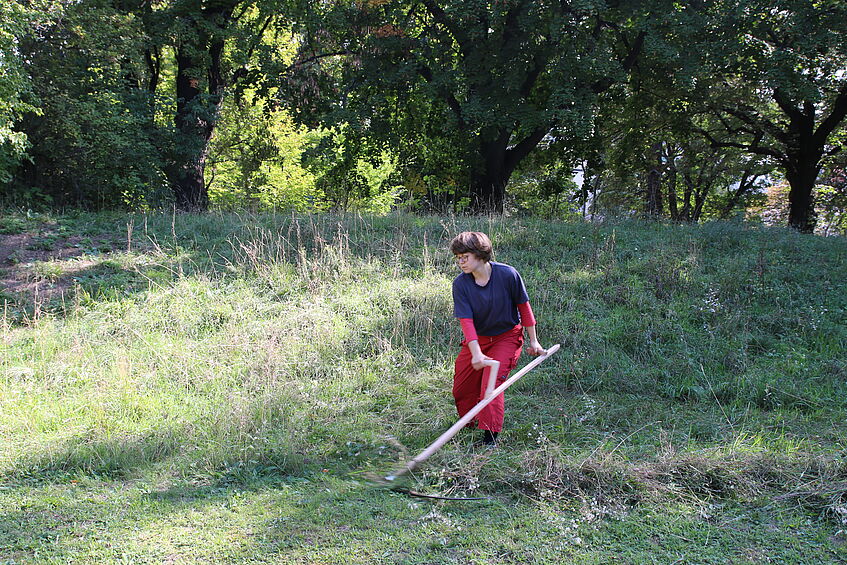 A four-hour course for people who would like to learn how to scythe their meadows properly.
"If you plant and sow, you also have to harvest and mow. Almost soundless, very movable and flexible – that is the best way to describe scythes used for gardening in the city: reduced CO2 emissions and sustainable, with 100 % organic energy. If you know how to use the scythe properly, you stand comfortably and relaxed, breathe in the scent of freshly mown grass, hear birds, insects and the gentle whooshing of the scythe." (Klaus Kirchner, scything teacher)
The course answers questions such as: What makes a scythe a "good" scythe? How do I properly adjust the scythe? Is scything always strenuous or can it also be easy? How do I whet and sharpen the scythe?
Your teachers will be certified scything teachers of the Sensenverein Österreich (Austrian scything society).
Contact and booking: sensenkurs.schnitter.in
Courses are held in German.
Terms
| | |
| --- | --- |
| 28.05.2022 | 7:00–11:00 |
| 18.06.2022 | 6:00–10:00, 14:00–18:00 (Peening) |
| 16.07.2022 | 6:00–10:00 |
| 24.09.2022 | 7:00–11:00 |
The Botanical Garden's meadows
The Botanical Garden's meadows are rich in species and very diverse. For decades, they have been free to grow, blossom and bloom until June, unlike many other meadows used for agriculture. This way, we now have meadows that are home to many species of plants and provide a valuable habitat for insects and other animals.
For many animals, mowing by use of modern lawnmowers is "life-threatening". In contrast, scything and processing mown grass manually is a gentle approach that is also beneficial for the development cycle of flora and fauna.
The cooperation with "Schnitter" aims at preserving and cultivating the Garden's biodiversity. At the same time, it lets us go "back to the roots", and experience and rediscover old, valuable handicraft. Until the end of the 1970s, mowing by scythe was common practice at the Botanical Garden.